What is Different About What We Do
Our operation is small enough that we can take care of every aspect and ensure that the very best quality is delivered.
Our goal is to provide products from the beehive of the highest quality that still retain their natural healing and nourishing properties.

Our Story
Our journey began selling our wares at local farmers markets some years ago, where surrounded by other food producers we developed ideas, and shared interests. And so it was there our business "Bee My Honey NZ" was born. Rod's longtime hobby caring for his bees in the backyard, turned quickly overnight into a small business. Our vision became clear, purchasing another 400 hives, a new truck with a fancy loader, replaced the old ute and sack barrow that had surfaced for so long. We built strong relationships with farmers and took on more crop pollination. Finally natures unsung hero the "honeybee", was being recognized for its amazing health benefits. Raising 3 small children, and growing a business has been a busy time for us but worth every effort. Its an amazing lifestyle we never take for granted. We eat lunch in a beautiful part of New Zealand landscape daily. We owe our success to the honeybee, and we believe that's what makes a premium quality honey… contented, happy bees!
Dreaver family beekeeping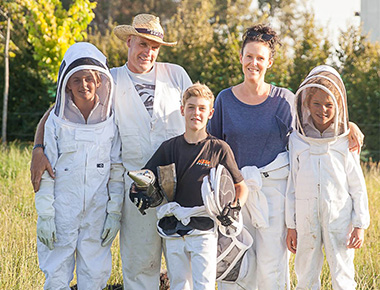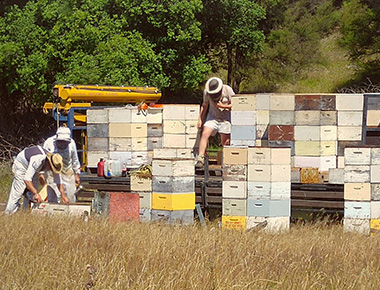 Some of our gourmet honeycomb